Filling the wood box, a frequent task, is satisfying. There, a chore is done. Chopping, slicing, sauteeing, blending flavors, and creating a healthy entree with flavor is another job that makes me feel good. Saturday morning was spent filtering through towering piles of envelopes, scraps of paper with now-mysterious telephone numbers and newspaper clippings that no longer seem of interest. There is once again room on the desk for a cup of tea. That felt very good indeed. All those good feelings were earned with hard work. It isn't smugness that amplifies the good feeling, but a Yankee sense that is it deserved, no need for awards, ribbons, or a pat on the shoulder.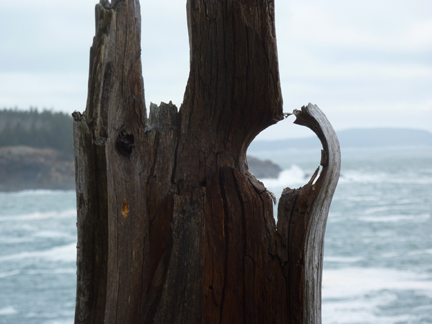 So how can one explain the light and simple pleasure that totally random flattery engenders? We return to our seats from the dance floor, and a young woman at a table nearby says, "You guys are great, we wish we could dance like that."
We don our embarrassingly similar fur hats as the wind is cold. We toss hatchets and check out blacksmithing at the Cramer Museum in Camden. "I want one of those," a stylish woman with a colorful cloth cap says, pointing to my husband's warm badger hat.
"I love your boots, where can I get them?" a teenager says admiring my furry goat boots.
After parallel parking in a very tight spot, a passerby says, "Nice job." I used to be able to do it in a space about three feet longer than my car, but years of living in Maine have blunted that skill, and I am pleased some of it lingers.
These comments from strangers make me glow. I didn't have to get splintered and dirty lugging wood, or overheated in front of a stove to hear the honeyed words. My Yankee ethic says maybe I do not deserve them, but I love them. Some of this flattery is admiring skills, which can be justified as deserved, but mostly it is simply a compliment on choice of apparel or the cheese I serve.
What a simple pleasure flattery is. It conveys appreciation and approval. Sincere flattery is a gift any person can give to another. There is no cost, there is no effort, you simply open your mouth when you see some one doing something well, or looking great, or with an interesting piece of jewelry or artifact and tell them.
Flattery feels good from both sides. How lucky we are to have voices, to be able tell our fellow travelers on this planet that we see them, and that seeing them doing something, wearing something, making something, gives us pleasure. How lucky to be standing in the grocery line, and have the shopper behind us say, "those crackers look great, what aisle did you find them in?" reaffirming that we have good taste, made a good selection, and appear friendly enough that the person feels comfortable asking us about them.
What fun when an admiring comment generates a story. "Impressive," I say to a woman balancing an armful of groceries. She laughs, and tells me she waitresses, and can line plates up her arm.
Give a gift and get one, flatter someone today.
And I, of course, think you are brilliant to be reading this blog.