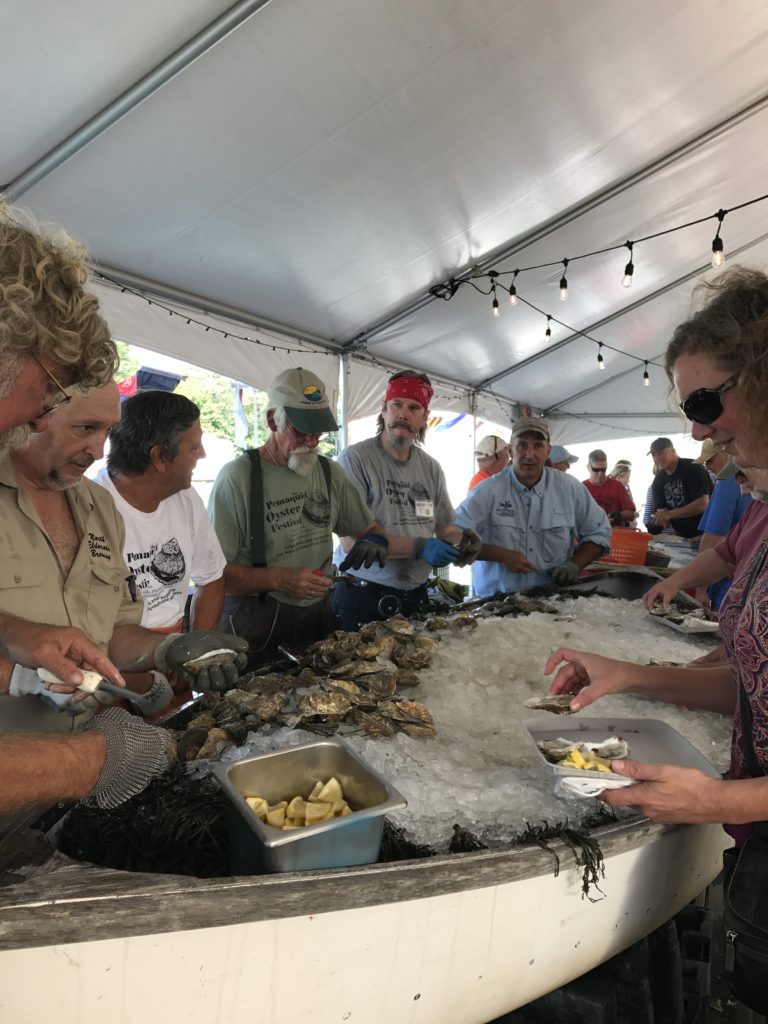 Oysters were a recurring theme throughout the life Dennis and I shared. We stood hip-to-hip by the kitchen sink and competed to see who could open the most, the fastest, and the cleanest. We drilled holes in shells and hung them from our Christmas tree, we made an annual getaway to the Pemaquid Oyster Festival in Damariscotta, and we had a respectable shell midden growing taller and wider in the backyard.
Some of the oysters in that midden are bigger than my foot, and came from Glidden Point. Our favorite oysters were of course the ones we were eating, but the memory of Glidden Points seemed to have an extra sweet, briny flavor to it. With a shell up to eight inches long, these are among the only oysters grown wild and still harvested by hand. We ate oysters throughout the year at other places, but our annual trip to Pemaquid and Damariscotta for a local oyster festival was our idea of oyster heaven. Damariscotta is an Abenaki word meaning "a place of many fish." For us, it was the place of many oysters.
We would take a stroll to the Whaleback midden, and every year read the same interpretive panel about its history. People sat by the river and ate oysters and threw the shells here. This was between 200 BC to AD 1000. I think if Dennis and I lived for a thousand years our midden would have rivaled the Whaleback midden. This Damariscotta midden was once thirty feet tall, and the largest in Maine. A Massachusetts company hauled most of it away for fertilizer and chicken feed, but it is still worth looking at and imagining the tower of shells that once was. 200 tons of shells were removed in about a year. What took a thousand years to build was reduced to a gleam of white along the riverbank.
The tale is that some of the shells deep in that midden were 18 inches long. Dennis and I look at each other and contemplate how to handle an oyster that big. Raw in one gulp is out of the question. I think we ended up with grilling it, and watching as the shell slowly opened to reveal the sweet and tender meat within.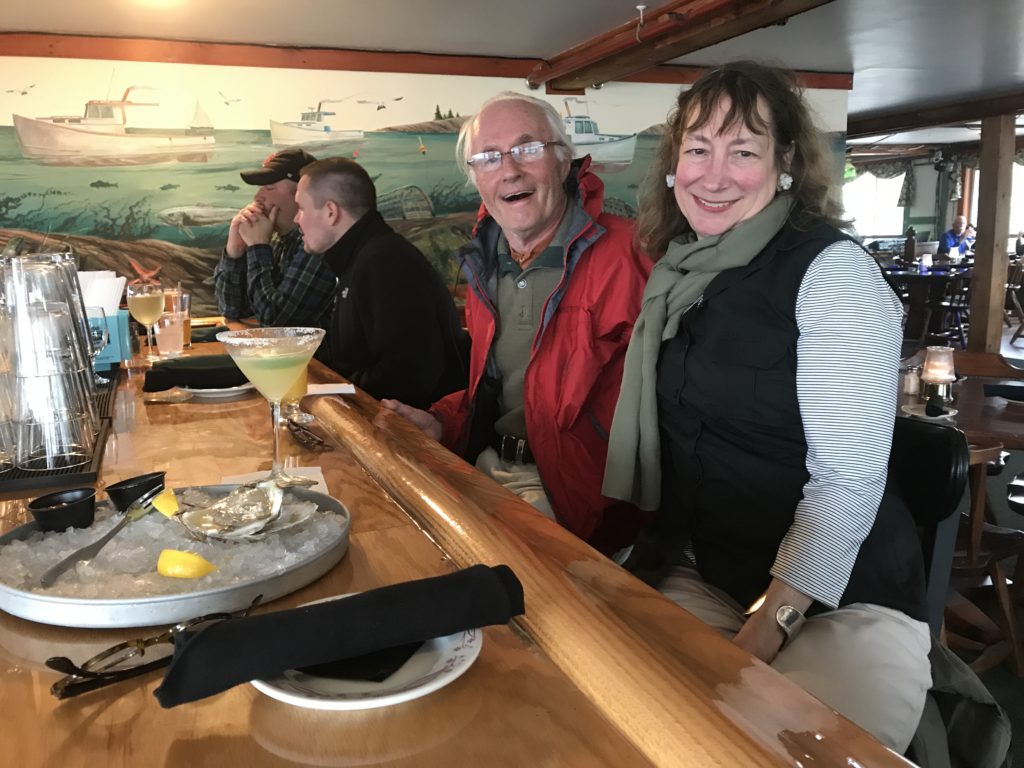 Across the river is the Glidden midden, and there we once saw horseshoe crabs doing their mating dance. The middens are old, but horseshoe crabs have been around for 250 million years. We had no idea they would be there, but were in the right place at the right time, which is how our life flowed. Every year between the May and June full moons horseshoe crabs move in from the ocean to mate and lay eggs. We saw chains of crabs, a large female in the lead, and smaller males jostling each other like bumper cars to be the one to hook on and follow her up the beach. There, she would lay her eggs, and the male would fertilize them. We watched fascinated until the thought of oysters for dinner pulled us both away.
Seven years into our relationship, having gotten through some ups and downs, and many plates of oysters, Dennis decided we needed to get married. I had been in an unsuccessful marriage many years earlier, and was not convinced. Of course, as Dennis pointed out, this time it would be successful. It was a hard sell, but one of his oft repeated mantras is "never, never, never, NEVER give up." He said it was the true Winston Churchill quote. He still didn't have it quite right, but it was a creed he lived by.
It seemed a bit unethical to me, but he brought my mother into our marriage debate. When my mother was living alone, since my father was in Alzheimer's care, Dennis said we had a spare room and she could live with us. My mom and I sparked often, not at all the same way Dennis and I sparked, and while I would have loved her near, same house was too near. This does get back to oysters.
"If we got married it would make your mother so happy. She's ninety now, we shouldn't wait," he said. He saw me weakening, and one evening I came home to a silent house and a hand-written proposal in the form of a dozen notes in envelopes, (no, I'm not telling what he said) each taped to a riser of the stairs leading to our bedroom.
It was confirmed, we were going to get married. But where and when? We wanted simple. We knew my parents could not attend, and Dennis' children were scattered. Just starting to think about planning a family event seemed complicated and made my head hurt and Dennis laugh. Besides, we didn't really want a wedding, we just wanted to be married. What did we both love?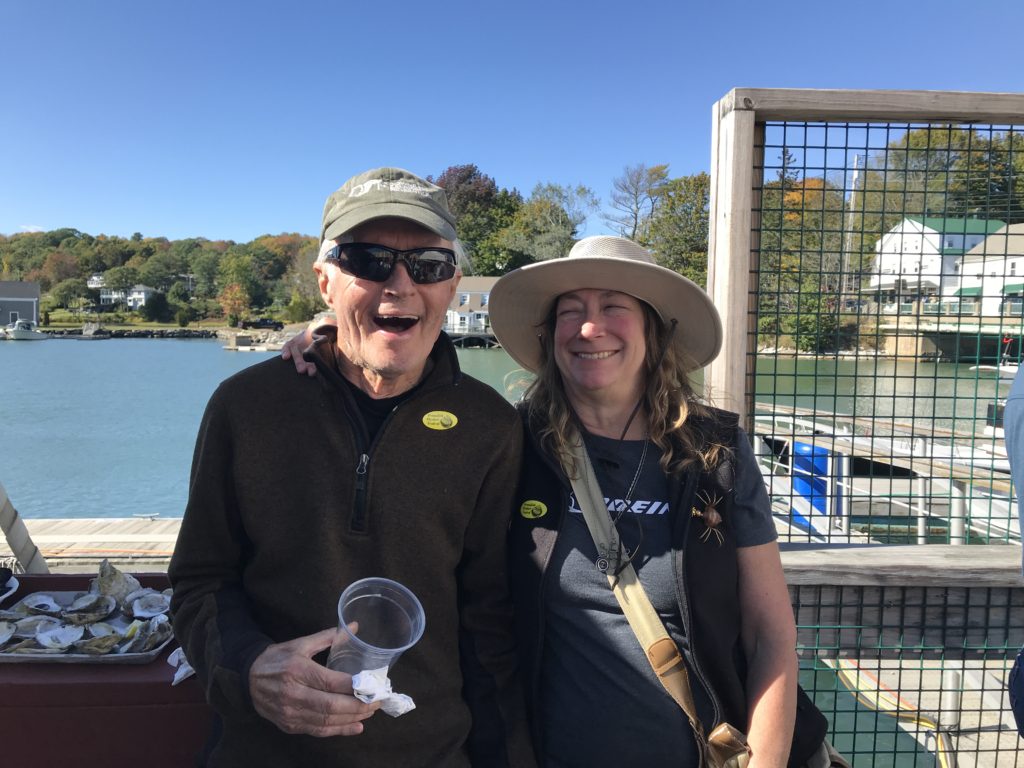 Oysters, of course. Dennis found a JP, and one rainy September afternoon we were married at Fort William Henry on Pemaquid Point. The following day we had a celebration any wedding planner would envy. There were hundreds of fellow oyster lovers, lively music, much dancing, and probably the most oysters I have ever eaten. And us. We drove home holding hands and smiling. Every once in a while a little sloshy noise came from my belly full of oysters.
A bit of Dennis is now settling in among the oyster beds of the Sheepscot River, and drifting by the Whaleback midden. I think he will like hanging out with some crazy, hormone-driven horseshoe crabs.